Heather Marshall on January 23rd, 2009
My husband rocks because… yesterday I came home with a headache, & my hubby was AMAZING!!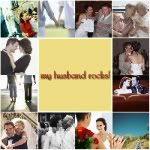 While I napped, he went right to work (without being asked) doing the laundry (including folding & putting away the clothes!)
He offered to make dinner (but I already had it covered).
He cleaned up after dinner by clearing the table, doing all the dishes, AND putting the leftovers away all while I laid down again.
He gave me the most AMAZING neck/shoulder/back massage to alleviate the headache's pain… and it worked! It enabled me to actually sit up and have a normal conversation without cringing at the light!
He brought me ice cream for dessert since I didn't feel well enough to eat much dinner.
He works super hard editing videos for NOfearYEAR.com, our video devotional (and does a great job!).
He's been reading "The Five Love Languages" with me every night & tries to keep my "love tank" as full as possible.
He loves me, both in sickness and in health!!!!!!!!!!
Does YOUR husband rock? Make sure you tell him why! List the reasons out on your own blog, in a letter or card, in a Facebook note, or even here in a comment & make sure he gets to read it!  Your husband deserves to know that HE ROCKS!!
Keep on Striving,
Heather
PS - If you write a list out on your blog, make sure to leave a link here so I can read it too!!
Related posts: