Heather Marshall on November 21st, 2008
I HAVE to give credit where credit is due…. and in this case, ALL credit for being a ROCKIN' HUSBAND goes to my very own husband, Jason Stanley Marshall.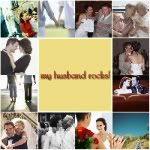 That's right, he's amazing.  This week he went ABOVE AND BEYOND, making me feel even more loved and cherished than before.
Here are just a few highlights of how he rocks…
Monday evening, I wasn't feeling well… so he offered to cook dinner for me! While I napped, he cooked an AMAZING meal (Catalina chicken with potatoes & veggies!!), did ALL the dishes, and had the kitchen all clean by the time the meal was served. He EVEN refused to let me clean up the few dishes after dinner! He did it ALL!!  What a sweetie!
The other day, I had to do something I was not looking forward to doing.  He CANCELED an important meeting just so he could be with me….  and then, as we were leaving work (we work at the same place), I found this waiting for me in the car:
When I was upset and crying, he offered to snuggle… then held me until I was all cried out (and all over his t-shirt, too).
There's so much more I can add….. but I just wanted to keep it short. I think you get the point, right?  MY HUSBAND ROCKS!!!!!!!!!!!!!!! 
What are some ways YOUR husband rocks?  You may have to dig deep, or you may be thinking of a few right off the top of your head… Leave a comment below! I'd love to hear it - and so would your husband! Make sure you tell HIM how much he rocks!!
Keep on striving,
Heather
Related posts: